I'm so pleased to have two pieces from my series Ode To Cement in this exhibition at Falmouth Art Gallery, Unfamiliar Territory: Artist impressions of the changing Cornish landscape. In Ode To Cement I have gathered up a series of little love stories, memories of cement and concrete, and overlaid them on structures associated with cement, concrete and industrial production. Cement, concrete, an everyday, familiar part of life but with huge environmental consequences. But choices are not simple, they are practical, convenient. And emotional, as these little love stories attest.
The Barbican Library Foyer 
October 22
I'll have 5 pictures and the Excuses handmade book in a glass cabinet in The Barbican Library foyer 04.08.22-26.08.22. 
Part of exhibition Re:Framed, curated by City of London and Cripplegate Photographic Society, open usual library opening hours at The Barbican Centre, London

Unravelling is at Exeter Cathedral 04.09.22-30.10.22
Such a stunning exhibition space and an incredible opportunity to get Unravelling seen. Details
here
Out Loud is an
online exhibition
curated by Work Show Grow. Artists responded to a brief asking how we show up for our work. It also had a guerilla style launch at Arles, my piece above was one of those pasted up on walls around the city during the annual photography festival.
Just amazing to exhibit Unravelling in this beautiful space 
Truro Cathedral 14.3.22-8.4.22
I'd like to share one of the comments in the comment book "Thank you for expressing visually + with stitched words whats been going round in my head without words of understanding. Thank you for expressing the complexity of emotions with simplicity + depth" . 
I don't know who you are but Thank You, this is what drives me to continue getting Unravelling seen.
Living Room is an installation curated by Camilla Dixon of First Not Second Homes, a cardboard home filled with pieces by a variety of artists and referencing homelessness and the housing crisis in Cornwall. The Royal Cornwall Museum 15.2.22-30.4.22
. 
My photography was used for publicity material and ironic version of popular holiday and housing magazines.
Photopocene Podcast (Interview) 2021
 St Ives, Cornwall, August 2021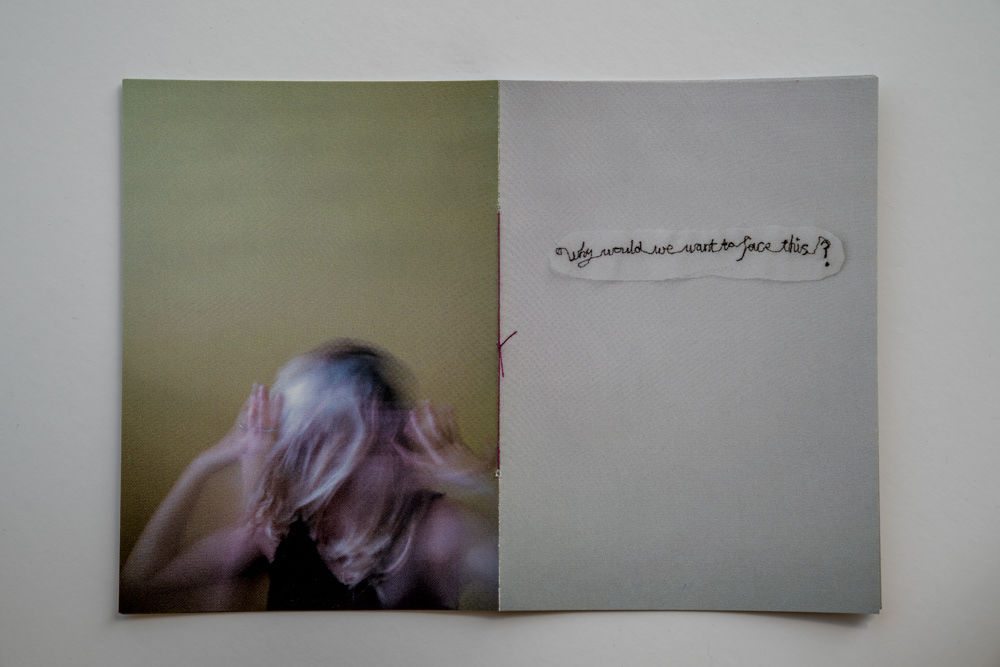 The British Library have acquired both the Excuses book and the zine 'Why Would We Want to Face This?' for their contemporary artist book and zine collections.
Video showing Excuses book: https://youtu.be/bB6SR6cFQtA
Video showing the zine: https://youtu.be/rmoSMgparAs
Excuses book available to purchase in a unique series of 10. Images printed then Excuses stitched for each one uniquely, no two identical. POA, please contact Ilya.  
Zine 'Why Would We Want to Face This?' £5 including postage. A7 sized
The Silence is Deafening
The Newlyn Art Gallery 14.08.20-22.02.21 and at The Royal Cornwall Museum 08.11.21-23.12.21
'The Silence Is Deafening' curated by Abi Hutchinson on behalf of Black Voices Cornwall.  A multimedia  exhibition including handmade placards from the protests in Cornwall such as the No Going Back Sundays demonstrations, testimonies from local people and soundscapes inspired by the Black Lives Matter movement, as well as photography by Ilya Fisher and Gav Goulder. 
"The effects the Black Lives Matter movement have on our local people and their stories that go hand-in-hand show us that racism still exists and we still have a long way to go in fighting this battle. I strongly and wholeheartedly believe every voice raised against racism chips away at its power." – Abi Hutchinson (BVC's Cultural Director).
This exhibition
 included 9 images I took at a No Going Back Sundays event in October 2020..
https://newlynartgallery.co.uk/activities/bvc/
Fine Art Photography Exhibition 
21st August- 10th September 2018 
Scarlett Wines, Lelant TR27 6JG
Photobook: Val on the Wall 2018
​​​​​​​
Artist Valerie Davide (1938-2017) is best known for her quirky animal paintings and beautiful watercolour splashed figures. However, Val painted everywhere -including on the walls of her home in East Sussex.  Val was my stepmother and when she died I photographed the walls of the house where she and my father lived in. This book is an invitation to take a glimpse at these walls and see a little of the great joy she spread everywhere.
Val on the wall is for sale at Artisan, the shop at Tremenheere, near Penzance and at The St Ives Society of Artists, or contact me for a copy.